We all know and always sign that Apple iPhones and the Google Pixel phones are the only good camera phones holding the most fabulous capturing modes, and that statement is 100% real. However, it still doesn't sound like the opposite saying other phone's cameras are dull and you can't alter them.
Google hardware developers absolutely have worked their best on the camera lens and all other crucial hardware, but it doesn't mean that their camera quality all depends on the lens. You can also make your phone's cameras work exceptionally like those Google Pixel phones by just modifying your camera app from the official one to the Google Camera Mod version.
It was impossible before, but some talented developers like Amova8G2 and BSG have made that possible with Google Camera Mods. You can merely install these mods to your Android phones and try pro captures.
But before that mere simplistic move, you just need to make a little tricky move, i.e., the requirements before installation. Don't worry, as we've cited below the entire guide to installing Google Camera Mod on your Android phone; use it ASAP!
What is Google Camera Mod?
People saying embrace beauty with cosmetics these days sounds like technology ignorers as we can exclude all the beauty products and can implement the most fabulous camera software in our daily life, Google Camera. All the Google Nexus and Pixel smartphones changed the complete mindset of people using the Google Camera software, but sadly you can't get them on the official Play Store for non-Google phones.
Yet, it's still possible to download and install Google Camera on any Android phone and the etiquette we can use here is the Google Camera Mod. It's finally the time to grasp all the Google Camera or GCam functionalities directly on your Android phone and you just need here some tricky steps listed below with app features.
Download GCam APK for Specific Phone Brands
Features of GCam Mod
HDR+ Enhanced Photography
3D Sphere Mode
Astrophotography modes
Color Pop filters
Classic Portrait Selfie capturing modes
20+ Camera customizing presets
Time Lapse and Slow Motion
Exposure and Highlights modification
Many more…!
Check out Google Camera Modes and Features to explore detailed features and functionality.
Primary Requirements
It happened with millions of tech enthusiasts who downloaded a GCam Mod without completing the prerequisites steps and found most app features blocked for them. Don't be that enthusiastic and play the game smartly! Fix all the below-listed prerequisites and only then start the installation procedure for Google Camera Mod.
We aren't just listing the above prerequisites but also acknowledging them all with the complete details below as well as the perfect procedure to fix them smoothly. Run through the below procedure and access all the Google Camera features superfast.
First Requirement – Camera2 API
Do you know why most Android phones include more than a single camera lens on the rear interface? Yeah, you technically know that some of them are portrait-creating lenses, wide-angle, monochrome, and telephoto lenses. But except for that technical definition, there is work divided among all those three or four camera lenses to create RAW capture support, HDR+ capability, and saturation modification.
Now, Camera API was the first Application Programming Interface or API developed for Android Smartphones which only the system can use automatically. Later, Google introduced the technologically latest version, Camera2 API, where third-party developers can manually employ all the camera capabilities and make photography way more professional.
Camera2 API is a newly built interface for technological camera smartphones which are offering you access to some modifications like Exposure Time, ISO Sensitivity, Lens focus distance, JPEG metadata, Color Correction matrix, and Video stabilization. In other words, you're ready to join some exceptional camera configurations except for the old viewpoint and Grid view.
How to Check Camera2API support on any Android Phone?
There are immense new flagship multi-brand smartphone models after the Google Pixel phones that contain an already enabled Camera2 API support.
In simple words, you're good if your phone contains an already enabled Camera2 API, and we also have a little complex procedure listed below for those who got it pre-disabled. But before that, you need to check for it by using the below-listed procedure.
There is a simple procedure to run for checking Camera2 API access on your phone which requires just a moment. All you need is to download an android app from Google Play Store named Camera2 API Probe app from the link we listed below and check your device's API status.
It'd show the green-colored font for the current status, and you need to check the one from the below list.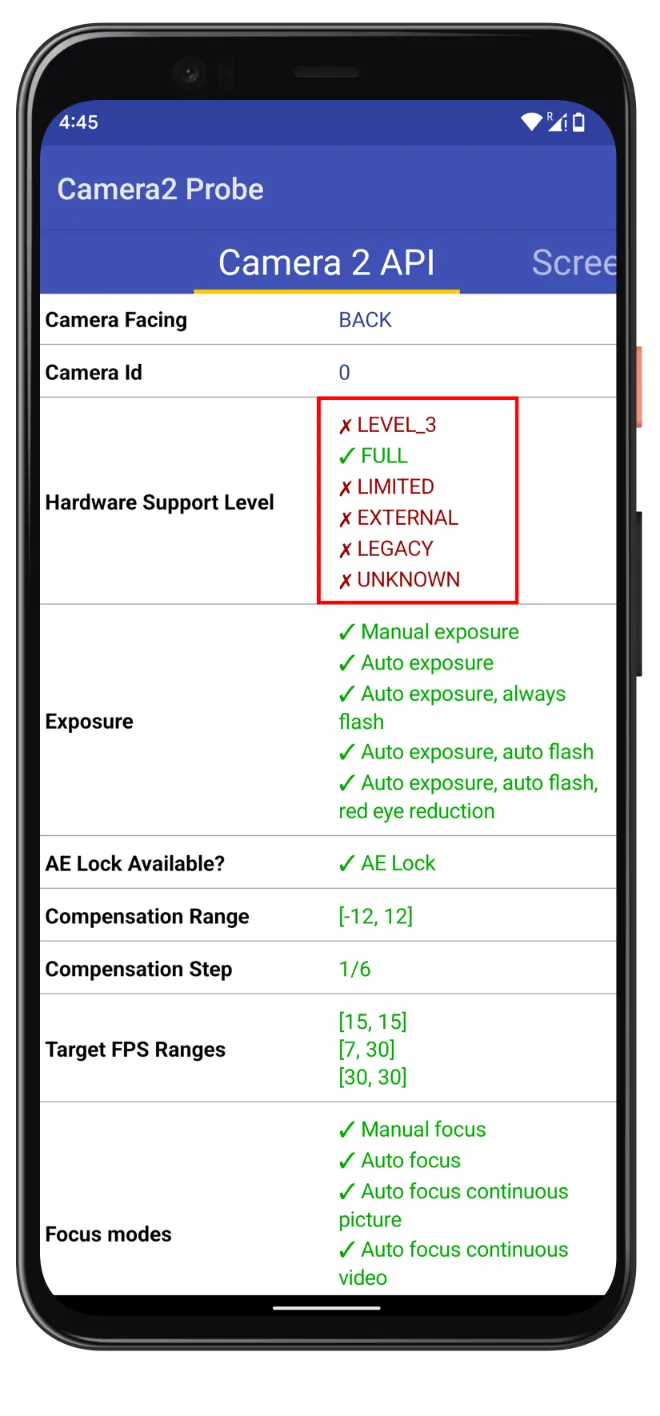 Legacy: If the Camera2 API section of the Camera2 API Probe app is showing the green-colored Legacy section enabled for your phone, it simply means that your phone only holds Camera1 API support.
Limited: Limited section tells us that the phone's Camera only holds a few, but not all the Camera2 API capabilities.
Full: Supportively with the name, Full support means that all Camera2 API capabilities can be employed on your device.
Level_3: Level_3 enabled smartphones are the blessed ones, as they comprise YUV reprocessing and RAW image capture too, within all the Camera2 API capabilities.
After knowing about the current Camera2 API status accordingly as per your smartphone, if you're seeing positive results (Full or Level_3), you can directly go through the installation procedure and install Google Cam Mod for your device.
Conversely, if you're one of the Legacy or Limited access users, you can go for the below procedure and enable Camera2 API with full support for your device.
Enabling Camera2 API on Smartphones
Currently, you know your smartphone's Camera2 API status perfectly. If you've seen the Legacy or Limited panel marked on your phone's status, you can follow one of the below-listed procedures and enable the Full Camera2 API access smoothly.
Both the below procedure requires you first to have a rooted smartphone, and later you can choose any of them at your convenience.
Method 1: By Modifying build.prop file
The first method to enable Camera2 API on your phone is by modifying the build.prop file is in there. It's a convenient procedure if your phone isn't rooted with Magisk, or for the converse situation, you can go with the next Magisk procedure. Let's get started with the below procedure –
Download and install the BuildProp Editor App by clicking this link.
Launch the app and grant root access to the app's interface.
Finally, you'd jump on its official interface. Click the top-right cornered Edit (Pencil) icon.
After glimpsing the Edit window, get to the end of the list and paste the below code there.
persist.camera.HAL3.enabled=1
Finally, hit the above sectioned Save icon and reboot your Android phone.
Now, you can check for the Camera2 API access on your phone, and fortunately, you'd get a positive Full result.
Method 2: Using Camera2 API enabler Magisk Module
You'd find this procedure as the most simplistic technique to enable the Camera2 API access on your phone, but it first requires your phone to be Magisk rooted.
If you're good to go with this prerequisite, then you can hit the link below and download the Camera2 API enabler Magisk module to your device.
After running that module, you'd find the Camera2 API enabled on your phone. That's it!
Final Step to Install Google Camera Mod on any Android Phone
Before initializing the downloading and installing procedure of any Google Camera mod version to any Android phone, it'd be great if you'd take a glimpse at some most important prerequisites.
And as you've completed all the above steps, it's time to find the compatible version of Google Camera Mod with your phone from all the below-listed options.
After downloading the compatible Google Camera Mod, follow all the below steps and install that to your phone super quickly:
Open the location where you've downloaded the Google Camera Mod package.
Now, click the APK file and enable Unknown Sources on the following prompt.

Finally, hit the Install button and wait for the completion of the installation process.
How To Load Import .XML GCam Config File?
That's it! Now you're good to go with the coolest Google Camera tweaks, modes, configurations, alterations, and capabilities. Advance your photography from beginner to professional level in moments and comment below about your most beautiful moments with Google Camera Mod. Have a nice day!